Affiliate Partners
Welcome to the Affiliate Partners page, where we only share, review and recommend quality Affiliate Partner companies for Affiliate Marketers. If you would like to know more please contact hello@laptoplife.org.uk
Recommended Affiliate Partner Programmes:-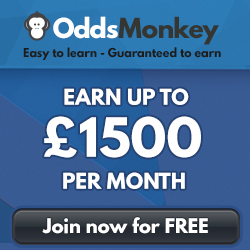 OddsMonkey is seeking Global Affiliate Marketers who have an interest in making money via 'Matched Betting Service'  that post bookmaker offers online every single day – collating each and every offer from over 100 different bookies.
They receive about 9,050 unique visitors and 59,006 (6.52 per visitor) page views per day.
Not only do they publish offers, but they post the exact method to guarantee a profit on almost every single one of them – meaning every member makes a profit week in, week out. Many people, including ourselves, make four-figure profits comfortably every single month by using their service. Free, quick and simple to sign-up. 5/5
Amazon the number #1 Global online marketplace which attracts about 3,054,500 unique visitors and 24,680,360 (8.08 per visitor) page views per day makes this a viable site for Affiliate Marketers.
Amazon Associates offers a comprehensive portal for both beginners in Affiliate Marketing and for the Experienced Marketers. Free, Quick & Simple to register yourself with a review of your website/blog/social media page after your 3rd sale. 5/5
Ideal World TV receives about 2,450 unique visitors and 11,515 (4.70 per visitor) page views per day. Potential to earn 6% commision on all new customer purchases & 4% for existing. Less competition than Amazon, but is popular amongst all demographics in the UK showcasing leading brands.
Registration is managed via Awin (global affiliate network company), where a one-off small fee by a credit card, this fee is required to ensure the security of their advertisers but will be credited to your publisher account on approval. Once accepted you will also have access to other companies seeking Affiliates. 5/5